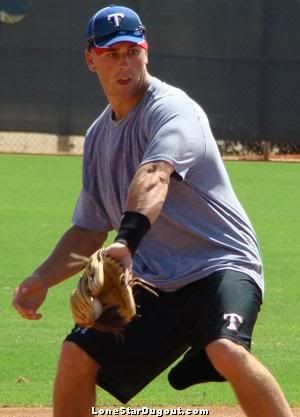 Before all the naysayers scream it, I know...I know. The last time the Atlanta Braves dealt with Texas, the Rangers took John Schuerholz for the ride of his life, one that still leaves as sour a taste in your mouth as anything Braves' Nation has sunk its collective teeth into in a loooong time. The deal that brought Mark Teixeira "home" to Atlanta is a sore spot when talking with many Braves fans, and even I will admit it's been pretty tough watching the players involved in the deal go on to varying levels of success with their new teams (plural since Jarrod Saltalamacchia's now the Red Sox' starting Catcher), but that's a discussion left for another time. For now, we move on.
Here we are - 33 days before Braves' Pitchers and Catchers report to camp - and many Braves "faithful" are pulling their hair out, screaming on message boards and blogs that Frank Wren needs to "do something". While I'm one of the small minority that feels comfortable with the team as constructed following the re-signing of Jack Wilson as a mentor for Tyler Pastornicky and insurance in case of injuries to Chipper Jones and/or Dan Uggla, I'll sound like Wren to many of the restless when I say I would still make a trade ONLY IF the right trade comes along.
There have been plenty of rumors continuing to surround both Jair Jurrjens and Martin Prado, but recent signings and trades have helped clear the water somewhat. One that consistently came up was Prado to Colorado for Seth Smith and another OF (depending on your preference, Dexter Fowler, Tim Wheeler, or Charlie Blackmon). This one can finally be put to rest now that Smith has been dealt to Oakland for two Pitchers. Does this mean that the Rockies no longer have any interest in Prado? Probably. Even though they'd still like to upgrade at 2B, the Braves will likely need a replacement for Prado in LF in any deal they make involving him, particularly now that the option of signing a replacement like Josh Willingham or Michael Cuddyer no longer exists. We also have seen reports that the Braves were "after" Orioles' CF Adam Jones (as I mentioned as someone I'd target here earlier), but there doesn't seem to be any real evidence that the talks ever gained much traction. If some of the "talking heads" were right when they said that Baltimore was asking for Jurrjens, Prado, and TWO premium pitching prospects, it's understandable that the phone call came to an abrupt end.
Most teams that have been linked to the Braves during the Hot Stove season might have had something to offer that fit one of the "holes" Wren would have been looking to fill, but not multiple ones. Carroll Rogers of the AJC had a conversation with Chipper Jones when he returned from an offseason hunting expedition last week that leads me to believe that the organization should be more hesitant to deal Prado than before. In her Q & A with the future Hall Of Fame 3B, he sounded resigned to the fact that the 126 games he was able to play in last season may very well be his ceiling going forward. If that is truly the case (and I'll agree with most that believe it is), we're talking about needing another player to man the hot corner for roughly 23% of the 2012 campaign. This of course assumes that the replacement LF and 3B don't come in any Prado deal. Martin alone isn't going to be enough to net that kind of return, and Jack Wilson's bat will simply not be sufficient enough to cover 36 games at 3B.
So let's look in a direction no one else has to this point - Texas. The Rangers understandably cut bait on C. J. Wilson when the numbers didn't seem to make sense for them anymore, and instead chose to go after Yu Darvish. Most "experts" feel that Darvish potentially offers more upside than Wilson, and they've committed to transitioning Neftali Feliz back into a starter now that they've signed Joe Nathan to close. Assuming they get the numbers where they need to be with Darvish, their rotation looks like this...C. J. Wilson, Derek Holland, Darvish, Feliz, and either Matt Harrison or Alexi Ogando (40% coming to them courtesy of the Teixeira deal if it's Harrison).
Despite all the GM-speak we've heard for awhile now, rumblings have begun to surface that the Rangers spending big on Darvish doesn't necessarily mean that they actually are "out" on Prince Fielder. They've been bridesmaids two postseasons in a row now, and two of their biggest hurdles to getting another crack at it have gotten markedly better this winter. The Angels not only added Albert Pujols, they now have arguably the deepest rotation in MLB with their addition of C. J. Wilson. As always, the Yankees seem to find some way to make headlines even when no one's paying attention, and they improved their rotation from the big question mark to a very good one in about a 10 minute span the other night with the additions of Michael Pineda and Hiroki Kuroda.
So here's my question - would the addition of Darvish, Fielder, and Jair Jurrjens not trump all other 2011-2012 offseasons and make the Rangers hands-down favorites??? Just how good could they be with Jurrjens in the rotation and Harrison and Ogando in the pen? A healthy Jurrjens would go a long way towards allowing Texas to relieve some of the immense weight they're going to be placing squarely on the shoulders of two guys who've never started an MLB game in Darvish and Feliz. I'd also think it's safe to assume that Nolan Ryan would love to replace some of the minor league pitching depth they traded away for bullpen help down the stretch last season when they brought in Mike Adams, Mike Gonzalez, and Koji Uehara.
Now for my proposal. Jurrjens, SP prospect Sean Gilmartin, and SP prospect Zeke Spruill for 3B prospect Mike Olt and OF prospect Leonys Martin.
Why the Rangers would do it: Jurrjens solidifies the rotation as mentioned above, and Gilmartin and Spruill significantly add to their system's pitching depth. This depth could be terribly important to them moving forward as guys like Wilson, Holland, and Feliz creep closer to free-agency. They've already blocked Olt at 3B with Adrian Beltre, leading to recent mention that he's going to be taking some reps at 1B. Obviously, signing Fielder would block him there as well. Martin's a high-upside OF, but the Rangers already have Josh Hamilton and Juan Cruz manning the corners (assuming they do the smart thing and keep Hamilton in LF to protect his health as much as possible), and while Leonys profiles as a CF, the addition of Fielder's bat would certainly allow the Rangers to go with more of a glove guy in CF.
Why the Braves would do it: The pitching depth has never been in question, with Mike Minor, Julio Teheran, and Randall Delgado all arguably ready to join the big club's rotation, and Arodys Vizcaino and Kris Medlen offering other potential options. Martin can be worked in slowly, filling in in LF for Prado when he steps in at 3B for Chipper this year, and sliding into LF (or CF if Michael Bourn leaves) permanently in 2013. Olt becomes Chipper's "heir apparent" also ready to step in following this season. If Olt's "beating down the door" and Martin looks capable of handling LF alone before the trade deadline, Wren can always revisit trading Prado later this year.
Maybe, just maybe, BOTH teams could "win" this time around.